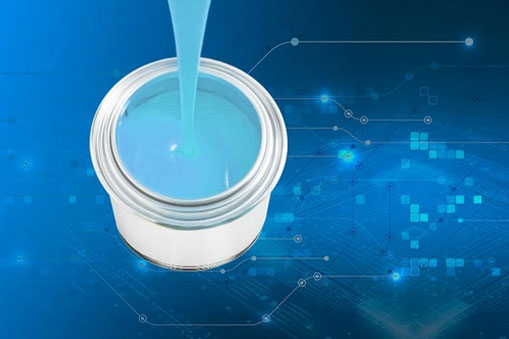 Potting gels are often an integral part of electrical and electronic applications as a permanent protective solution – and are now also available from HALA. After all, they not only protect components from external influences such as moisture, dust or chemicals, but also have a considerable influence on thermal management. They are also ideal for bridging tolerances and gaps between components of different heights.
Silicone potting gel (2 parts)
Silicone-containing potting gels are in demand because of their ease of processing. They cure quickly even at room temperature, which enables a fast working process.
HALA offers silicone-containing 2-part potting gels in two versions: Both are formulated with thermally conductive fillers and are highly temperature-resistant. This makes them suitable for potting LEDs, capacitors, coils or sensors, for example. They can be poured both under normal conditions and in a vacuum. The TCR-D-SI-2C version has a thermal conductivity of 0.68 W/mK and is viscoplastic after curing. The TCR-H-SI-2C version has a low viscosity and a thermal conductivity of 1.2 W/mK.
Silicone-free PU potting gel (2 parts)
As an alternative to the silicone-containing potting gels, HALA also offers potting gels based on polyurethane (PU). These can be processed very well by machine and are less expensive than silicone-containing potting gels.
In the HALA range, PU potting gels are available in eight versions, with conductivities from 1.5 W/mK to 3.5 W/mK and low to high viscosities. This means that the right potting gel can be found for every application.
All details on the potting gels from HALA can be found here: https://www.hala-tec.de/en/products/potting-gel/